On Sunday, June 11th, the BCWF Wetlands Education Program (WEP) team completed another successful Map our Marshes workshop, this time within the Maplewood Flats Conservation Area in North Vancouver. With freight ships in the background, asphalt beneath the soil, and carefully managed species surrounding our large group, the blending of city and natural areas was present throughout the day. As we strive to protect, manage and restore BC's wetlands, Maplewood Flats is an excellent example of the possibility for functional natural areas following development.
We began the day in the classroom of the beautiful Corrigan Nature House. Our WEP Project Technician, Doug Newbigging, gave his first presentation on wetlands ecology and classification, and we want to congratulate him on his enthralling delivery! Neil Fletcher, WEP Manager, finished the presentation off with participant projects and the importance of wetlands.
Chloe Hartley, a Master's student working in partnership with the Wild Bird Trust, gave a brief overview of Maplewood Flats and their past and future projects. The site has an extensive development history; the mudflats were dredged and the soils dumped upon for years before the site was purchased. The area was extensively cleared of debris, and naturalized over the past decade to become what we see today.
Participants left the classroom armed with wetland knowledge they were eager to apply. The first order of business was to learn how to create waypoints and tracks using a GPS. This makes it possible to use the GPS to delineate wetland boundaries, and to potentially upload that data to the Community Mapping Network.
After becoming familiarized with the GPS units, we headed out to three sites throughout the conservation area to practice vegetation surveys and completing inventory forms to classify wetlands. We were fortunate to have Ernie Kennedy (the site manager of Maplewood Flats for the past 20 years) as a participant, who granted us access in to the typically off-limits salt water marsh on the western portion of the property.
This was a great opportunity for participants from the Lower Mainland to explore their backyard, and as such provided greater insights into urban conservation. We want to thank all participants for their enthusiasm, the Wild Bird Trust for their partnership, and Maplewood Flats for their dedication to the conservation area!
For more information about Map our Marshes or other WEP workshops, please contact Jason Jobin, BCWF Wetlands Education Program Coordinator at jason.jobin@bcwf.bc.ca
If you wish to view the photos taken at this event or other WEP workshops, please click here.
THIS WORKSHOP WAS HELD IN PARTNERSHIP WITH: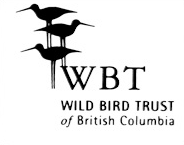 THIS PROJECT WAS POSSIBLE WITH THE FINANCIAL SUPPORT OF:
/ CE PROJET A ÉTÉ RÉALISÉ AVEC L'APPUI FINANCIER DE: